Shekha Jheel
Shekha Jheel, also known as the Shekha Bird Sanctuary, is located near the village of Shekha in the state of Uttar Pradesh. Resting 17 km east of Aligarh and 5 km from the Grand Trunk Road, it is an ideal place to witness a number of bird species. Out of 200+ bird species witnessed in Aligarh, nearly 170 species are found at Shekha Jheel. This lake came into existence after the formation of the Upper Ganges Canal in 1852. Presently, it is maintained by the Forest Department. The best time to visit Shekha Jheel is from November to February and entry ticket costs around INR 10 per visitor.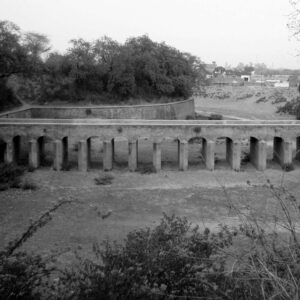 Aligarh Fort
Aligarh Fort, also known as 'Bonay ka Qila' or Dwarf Thief's Fort, is situated near the GT Road in Aligarh, Uttar Pradesh. Though a majority of the fort is damaged, the remaining structure consists of a regular polygon surrounded by a deep and broad ditch. The fort was built during the time of Ibrahim Lodi. In 1524, the fort was rebuilt by Sabit Khan. Over a long period of time, this fort was of a great important for a number of rulers protecting their cities from the enemies. Presently, the fort is surrounded by Dawakhana Tibya College, Street 1 of Fort Enclave, office of the National Society for Educational Empowerment of the Masses (NASEEM), and many more.
Chacha Nehru Gyan Pushp
Being one of the prominent sightseeing destinations in Aligarh, Chacha Nehru Gyan Pushp, an educational museum, was founded in 1982. It is an art gallery situated at the Three Dots School Complex and houses a number of historic, biological, and geographical specimens. It also boasts of a large collection of coins, stamps and medals from various eras along with paintings, illustrations, cultural dresses from different ages. For geography lovers, the museum has a significant collection of different gems, shells, rocks, and minerals.
Kherashwar Temple
Situated in Tajpur Rasalpur village, 5 km from the city center, Kherashwar Temple is counted among the holiest shrines of Aligarh. The temple is dedicated to Lord Shiva and houses an environment of Shiva in the form of a Shivlingam. The temple boasts of its beautiful architecture with an engraved ceiling of metallic mural finish. The temple also features Brass idols of various other Hindu deities as well. Owing to its close proximity to the city center, it is very easy to reach the temple via public transport.
Teerathdham Manglayyatan
Situated on the Aligarh-Agra road and around 13 km from Aligarh, Teerathdham Manglayyatan is a Jain pilgrimage complex. Spread over an area of 16 acres, housing 5 temples, the complex is promoted and developed by Shri Adinath Kund-Kund Kahan Digamber Jain Trust. Teerathdham Manglayyatan focuses more on socio-religious concept encompassing devotion, education, socio-religious research activities, and social service.
AMU - Aligarh Muslim University
Aligarh Muslim University is a premier central university in Aligarh, India, which was originally established by Sir Syed Ahmad Khan as the Muhammadan Anglo-Oriental College in 1875. Muhammadan Anglo-Oriental College became Aligarh Muslim University in 1920, following the Aligarh Muslim University Act.